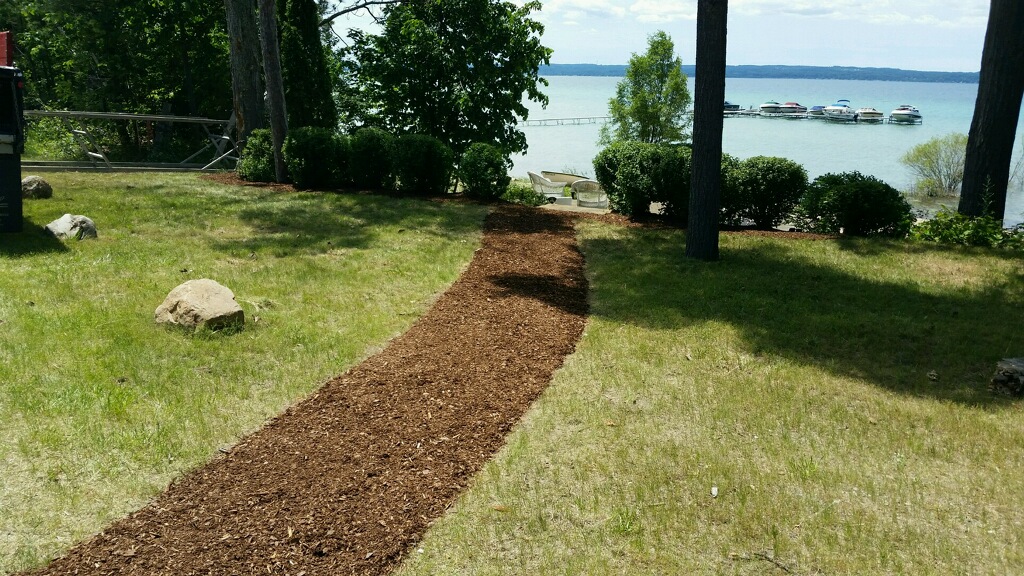 Lawn Care Services
Our mission at Pro Maintenance is to be the premier lawn care and landscape provider for both residential and commercial customers in the Traverse City area. We utilize only the best equipment, in conjunction with a strong preventative maintenance program. With our wide range of professional lawn care services, such as mowing, fertilization, weed control, insect control, dethatching, and aeration, our crew can have your lawn looking thicker and healthier than you ever imagined.
Mowing
Pro Maintenance offers superior lawn cutting and finishing with the top equipment in the industry for both commercial and residential properties. Our prompt and reliable service will keep your lawn looking its best. We also offer lawn fertilization, weed control, pest control, irrigation and many other specialized services to keep your lawn and landscape healthy and looking great.
Mulching
Mulching needs? Pro Maintenance can help you out there too. Mulching is not only important for aesthetic beautification, but also it suppress weed growth, and help to regulate your soil temperature. Give us a call today let us help you out with anything mulching related.
Debris Removal
Has a recent storm made a mess of your landscape? Cleaning up the broken branches and tattered vegetation can be very time-consuming. Call Pro Maintenance to take care of the clean-up and removal of fallen branches and debris.
Lawn Repairs
Those pesky bare spots in your lawn can occur for many reasons – snow plow damage, pets, high traffic, and disease to name a few. They are unattractive and can be difficult to correct. We can repair those troublesome areas and you'll soon see lush, green grass growing again.
Dethatching
Thatch is a layer of dead grass and roots that exists in every healthy lawn. But when air, water and light cannot reach the soil surface any longer because of deep thatch, you have to clear it out to allow for better root growth and development. Let our lawn and landscape professionals restore the beauty of your lawn with our dethatching service.
Lawn aeration
Lawn aeration involves the removal of small soil plugs or cores out of the lawn. Aeration is a recommended lawn care practice for compacted, heavily used turf and helps control thatch buildup. Aeration opens the soil so fertilizer and air can get to the roots better and loosens the soil for better root growth and development.
Spring and Fall Clean-ups
A Spring Cleanup will prepare your property for the upcoming landscape season. Removal and haul away of all leaves, branches and other debris that have accumulated throughout the winter months will give your landscape a fresh look and promote better plant and lawn growth in the spring and summer months. As the growing season comes to an end, a Fall Cleanup will help prepare your landscape for the winter months ahead with removal of leaves, dead vegetation, and debris. Let our years of experience help enhance your home or business; contact Pro Maintenance today for a free estimate to see what we can do for you.